Post Surgical Rehabilitation
At our North West Physio and Massage Clinic, we provide special care and treatment to those patients suffering from surgeries. Our physiotherapists follow an individualized recovery plan for such patients. Thus, Post Surgical Rehabilitation is the best treatment procedure that we provide for our post-surgical patients to get a faster recovery.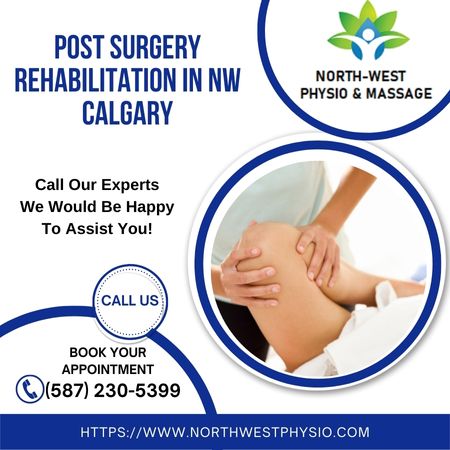 Post Surgery Physiotherapy At North West Calgary:
There are certain conditions for which you will be suggested to go to post-surgical rehabilitation. Some of the conditions include.
· Spinal Surgery
· ACL
· Ligament Damage
· Carpal Tunnel Surgery
· Rotator Cuff Repair
· Post-Hip, Shoulder, or Knee Replacement
· Cosmetic Surgery
When you undergo the above surgeries, there will be more chances to get damage to joints and ligaments. Thus to restore mobility and prevent damaged joints or ligaments, we provide the best treatment using post surgery physiotherapies.
After undergoing surgery, the first few months will be difficult for patients to carry out their daily tasks. In such a situation, there is a great chance to get damage to the joints and ligaments without proper care. Thus, to avoid such a condition and to provide recovery to increase your mobility, our therapists create a recovery plan. Even major joint replacement surgery can be treated with our recovery plan.
We will teach you how to move a particular joint of muscle. Generally, unused muscles become tensed and contracted. Thus, to avoid tension over such muscles, our therapists will teach you how to do physical activity. We will teach a recovery procedure that cannot be rushed to avoid worsening your condition.
Thus, our main objective is to focus on certain things like
· Improving movement
· Developing your flexibility
· Reducing pain
· Increasing the range of mobility
· Finally making your move again normally
How Post Surgery Physiotherapy Helps You In The Recovery Process?
We actually work one-on-one with you to help you feel much better. Our post-surgery rehab is somewhat similar to the normal physiotherapy session. Initially, we will review your health condition to prescribe a recovery plan. Then, we will review your medical report of surgery to understand what exactly the problem is.
Once we find out the nature of the injury and surgical procedure, we will start the treatment. Also, we will tell you and explain the recovery plan to our patients and make them understand it clearly. So, our post surgery physiotherapy experts will start the treatment after ensuring that the patient understood the procedure.
The overall goal of post surgical physical therapy is to improve physical health and thus, promote your mobility. Our physiotherapist will ask you to perform certain exercises that will activate the damaged muscles of your body. Such exercises will even restore the body condition by circulating and transmitting nutrients to muscles. Furthermore, our therapists will ask you to increase the intensity and repetition of exercises gradually.
We are teaching you to move in such a way that will not affect your injury but stimulate the muscles and joints. Sometimes, we even recommend going with other physiotherapy techniques along with this rehab program. Such treatment procedures are
·         Massage Therapy
·         Acupuncture
Both techniques help activate the nerves to relieve the pain and relax the muscles. Thus, we plan a whole treatment that works best for you. Our team of physiotherapists always works hard to see patients getting back to their original condition.
Why North West Physio and Massage Clinic?
For any form of major surgery, one may require a long time to recover from the condition. But to shorten the recovery period and to avoid getting damage to muscles and ligaments, we are there at North West Physio and Massage Clinic. So, you can simply visit us to get treatment for the betterment of your life. Thus, visiting us will help you to increase your mobility which is restricted due to the surgery.
Since strengthening weaker muscles and returning to daily activities are possible only with this rehab treatment, never hesitate to visit us. It is crucial for you to get rehabilitation after surgery to return to activities of daily life. Therefore, book an appointment and consult our physiotherapists for a better living.
See What Our Customers Say About North-West Physio & Massage: Acupuncture Calgary Northwest
You Can Locate Us @