Neck Pain Physiotherapy
If you suffer from persistent Neck Pain, then North-West Physio and Massage Center can provide the best treatment options to help ease the pain effectively. With our physiotherapists' hands-on approach and a tailored treatment plan, you will get relief from neck pain for sure.
So, book online your appointment for neck pain physiotherapy in NW Calgary.
Best Physio For Neck Pain in NW Calgary:
At North-West Physio and Massage clinic, we have licensed physiotherapists who are specialized in treating neck pain. We offer treatment in a friendly atmosphere in order to make patients feel more comfortable with us. Our physios for neck pain have several years of experience in assessing and treating the neck pain of patients.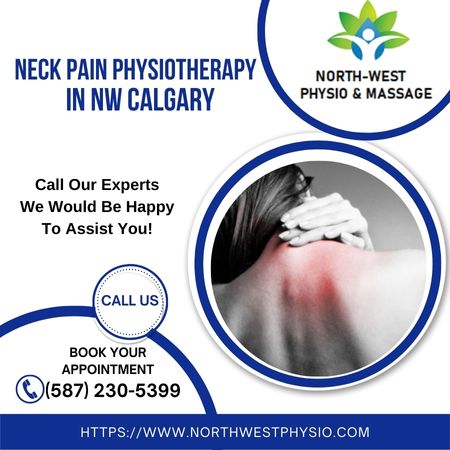 At our clinic, our team of physiotherapists is utilizing a multi-disciplinary approach to partner with you. So, it has become easy for our therapists to frame a personalized treatment plan. Our physiotherapy treatment for neck pain will surely give positive results to our patients and thus, they can lead a healthy life without neck pain as before.
Our Specialized Treatment For Various Causes Of Neck Pain:
The main reason for getting neck pain is poor posture. People often sit in poor posture and strain the cervical spine. As a result, they will suffer from neck pain. They will get neck discomfort mainly due to sprain in ligaments, muscles, etc within the neck.
Some kinds of neck pain will easily go on their own without requiring any treatment. But other kinds of neck pain may require proper treatment and care. Thus, we are at North-West Calgary providing you with the best treatment to get rid of neck pain to make you feel better.
The causes of neck pain involve several factors and we provide treatment for the following causes of neck pain.
· Poor posture
· Arthritis
· Nerve disorders such as Sciatica
· Injuries due to slips and falls
· Underlying medical problems like Fibromyalgia
· Working so long on Computers without any break, sitting and driving for a long period, etc may contribute to aches in the shoulders, neck, back, etc.
· Spending time continuously with poor posture while using mobile phones, laptops, tablets, etc leads to 'Tech Neck'
· Sedentary lifestyle
So, these are the main causes of neck pain and thus, we suggest patients avoid sitting long with a poor posture, etc to control the neck pain. In addition to this, we ask for the symptoms of neck pain that patients suffer from. Some of the symptoms include,
· Tech Neck
· Dizziness
· Nausea
· Whiplash
· Pain in the upper back region
· Shoulder pain
· Jaw pain
· Headaches
· Heavy Head Syndrome
After analyzing your symptoms, our therapists will create an individualized treatment plan. In most cases, neck pain will travel down into the arm and affect the palm and fingers. Sometimes, it may cause numbness and it is due to the pinched nerve. Thus, for such a worst pinched nerve, our chiropractors and physiotherapists provide a treatment to release the pinched nerve. When our chiropractors release the nerve, you will not get any painful symptoms at all.
Our Effective North-West Calgary Neck Pain Treatment:
At North-West Physio and Massage Clinic, we combine and use various treatment modalities to treat your neck pain. Our neck pain physiotherapy professionals use some therapies that involve working on the muscles and tissues in the various areas like the neck, back, hip, and shoulder.
To treat neck pain, our therapists even make use of laser therapy. Such therapy will help the body cells to form energy and thus promote healing. With the use of laser therapy, there will be a stimulation that supplies blood to the damaged cells. Thus, the healing process becomes faster with our therapies. Additionally, we also suggest our patients go for Shockwave Therapy for treating neck pain. So, our common treatments for neck pain include,
· Massage Therapy
· Chiropractic Treatment
· Laser Therapy
· Shockwave Therapy
· Physiotherapy
To know more about our services, you can visit our clinic at NW Calgary. Also, to book an appointment, you can do it online using our website. We have a team of trained physiotherapists, chiropractors, and other specialized therapists with great working experience and vast knowledge to take care of your health ailments. Thus, you can simply visit us if you face neck pain or other chronic neck issues.
See What Our Customers Say About North-West Physio & Massage: Acupuncture Calgary Northwest
You Can Locate Us @