sports injury physiotherapy
If you are suffering from the symptoms of sports injuries, you should visit our North-West Physio & Massage clinic to get safe and non-invasive treatment. Since athletes push their bodies beyond the limit that leads to a great risk of injury. To treat such injuries and help them relieve pain, we have a team of trained sports injury physiotherapy treatment experts at our North West Calgary Center.
Never waste your time as soon as you suffer from the symptoms of sports injuries, but visit our clinic for a quick recovery.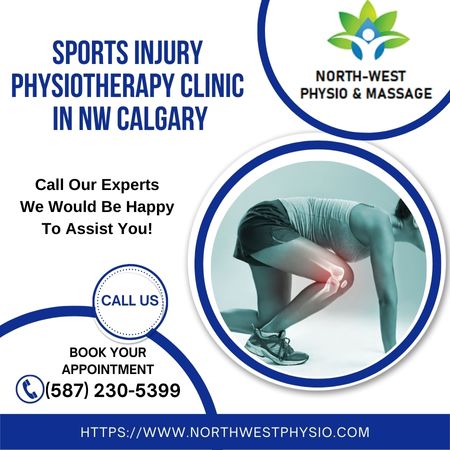 Our Sports Injury Physiotherapy Treatments!
In the case of sports, athletes need to strain their bodies a lot. Such extraordinary straining of the body leads to muscle stress beyond the limit. As a result, athletes will easily get body injuries and suffer from neck, shoulder, knee, or ankle pain. In such a situation, you should consult a physiotherapist and discuss your health issues with them.
If you are in Calgary, you can visit our clinic for getting physio help related to sports injuries. At our clinic, we have a team of sports injury physios who work as a team in focusing on the health issues of patients. For sports injuries, we provide some traditional physiotherapy techniques such as
· Acupuncture
· Massage Therapy
· Hands-On Therapy
· Exercise Program
· Physiotherapy
All the above techniques our physiotherapists use will help to improve various conditions of patients. Some of them include,
· Promoting blood circulation
· Stimulating weak muscles
· Reducing pain
· Preventing the chronic or long-term health disorders
Thus, the main objective of our therapists at North-West Physio and Massage clinic is to alleviate the overall pain and promote the healing of the body naturally. Also, we always want our patients to get recovery naturally with our therapies by avoiding surgeries and invasive treatments.
What To Expect During Therapy?
At North-West Physio and Massage, the specialty is providing treatment in a compassionate and friendly atmosphere. Also, the sports injury therapists work as a team with a good understanding between them in order to treat patients effectively. So, the first step is the initial assessment of patients, which will help therapists to understand the health issues of patients. Once our sports injury therapists assess your health, we can get a better grasp of your therapeutic needs.
Generally, your muscles need some stimulation for the nutrients' circulation. Thus, our therapists have two targets in our treatment. They are
1. Exercise Programs – Our exercise programs help to stimulate the affected and weaker muscles of the patients. Initially, we will teach fewer intensity muscles and then gradually increase the intensity of the treatment.
2. Additional Therapies – Then, our treatment includes additional therapies such as acupuncture and massage again to improve circulation. This will help to supply the nutrients to the damaged muscles of patients.
Rehabilitation of sports injuries is like a lengthy game. Thus, we will completely monitor your health condition during your every visit. This is to let to know when you can go back to the sports.
Our Approaches For Treating Sports Injuries:
For sports injuries, our treatment involves various approaches. All such approaches aim to treat the underlying health issue and promote a pain-free life. At first, our therapists will go for an initial assessment to identify the issues. Then, we will advise on how to lead a healthy life. For instance, our therapists will advise on how to exercise regularly to maintain a healthy weight.
Additionally, our sports injury physiotherapy experts will provide specific advice on how to decrease the chance of getting injuries in the future for athletic patients. Then, our therapists go for hands-on therapy where we use our hands to massage your body for stimulating the circulation in muscles.
Finally, our sports injury therapists will provide individualized treatment to treat specifically the issue like neck pain or back pain, or something else. With our care and physiotherapy treatment for sports injuries, patients can get a quick recovery, which is our ultimate goal.
Thus, visit us and get customized treatment from our trained physiotherapists at North-West Physio and Massage clinic. To book an appointment, you can visit our official website or contact us for getting any help.
See What Our Customers Say About North-West Physio & Massage: Acupuncture Calgary Northwest
You Can Locate Us @