Pelvic Floor Physiotherapy
At North West Physio & Massage Clinic, we have a team of experts specialized in pelvic floor physiotherapy Calgary NW. They provide the best treatment for women and men in order to strengthen the pelvic floor muscles. We are proud to say that we are one of the best pelvic floor clinics in North West Calgary. Thus, you can visit our center if you face any problems related to the pelvic floor muscles.
Why North-West Physio & Massage Calgary Clinic For Pelvic Physiotherapy?
At our pelvic floor physiotherapy NW Calgary center, you will get the best treatment for many conditions due to weakened pelvic floor muscles. To recondition the pelvic floor muscles, our pelvic physiotherapists use a structured and effective approach to physical therapy. Since the pelvic floor muscles are crucial for many reasons such as
· Supporting the pelvic organs
· Assisting in bladder and bowel control
· Responsible for orgasm
Our physio for pelvic pain treats this chronic pain by improving the strength as well as the function of the pelvic floor muscles. The main objective of our pelvic floor clinic NW Calgary is to alleviate pain and prevent dysfunction of the pelvic floor muscles. During the initial assessment procedure, our skilled physical therapist will assess the condition of the muscles to improve their functionalities.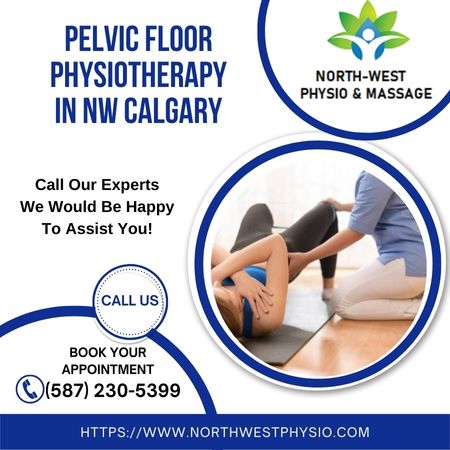 So, to improve the strength of the muscles, our pelvic physiotherapists will either stretch the muscles if they are contracted or resist the muscles if they are weak. To achieve this, you need to follow the exercises and rehab programs for betterment.
What Can You Expect During Pelvic Physiotherapy At North West Calgary Clinic?
Soon after the delivery, women are suffering from a lot of problems due to weakened pelvic floor muscles. Thus, to help them, our pelvic floor physiotherapists are providing both internal and external treatment according to the individuals. At first, you visit our pelvic physio, they will assess and diagnose you and ask about the symptoms that you suffer from. Such symptoms include,
· Urinary incontinence like frequent urination
· Problems in bladder and bowel movements
· Painful urination
· Fecal incontinence
· Constipation
· Pain in the pelvis, hip, abdomen, thigh, or low back
· Menopause symptoms
· Endometriosis
· Testicular pain
· Rectal pain
· Postpartum issues
These are some of the symptoms that women are suffering from due to weakened pelvic floor muscles. After analyzing your symptoms, our therapists will decide the right treatment for you. Since most patients are not feeling good with the internal treatment, our pelvic floor physiotherapy Calgary NW experts will go for external treatment in most cases. We will consider internal treatment only if the patient accepts.
Our therapists provide various external pelvic floor physiotherapies for patients suffering from the above symptoms. Such therapies include
· Nerve Release
· Trigger Point Therapy
· Joint Mobilization
· Skin Rolling
· Deep Tissue Massage (Myofascial Release)
Coming to the internal pelvic floor therapy, our therapists will insert the finger either through the vagina or rectum to conduct trigger point therapy. In such a therapy, our therapists apply pressure on some points.
In addition to the above treatment procedures, our therapists also recommend other customized techniques to recondition the pelvic floor muscles. Our therapists even teach pelvic floor exercises for patients to strengthen their muscles.
How Do We Provide Pelvic Floor Physiotherapy For Women?
At first, our therapists begin with your past medical history and ask if any surgeries are done. So, our therapists will examine you around the lumbar spine, hips, and posture. Finally, the assessment will come to an end after evaluating both internal and external muscles.
After evaluation, pelvic floor physiotherapists in Calgary NW will get some idea on how to provide appropriate care for patients. Using some tailored treatment plan, our therapists will manipulate the muscles to get back their strength. Additionally, we suggest our patients go for appropriate exercises according to their symptoms. So, for patients, we suggest relaxing and lengthening exercises of muscles while for others, we teach strengthening muscle exercises. Thus, one will get the right therapy based on his/her body condition.
Several factors are weakening the pelvic floor muscles of women like childbirth, weight lifting, menopause, surgery, etc. But our physio for pelvic pain helps such women to rehabilitate their pelvic floor muscles for a better life. Do you need the pelvic floor clinic Calgary phone number? Our contact numbers are shared on the website.
Visit Our Calgary Center!
For getting pelvic floor physiotherapy in Calgary NW, you don't have to feel shy as our female pelvic floor physiotherapists will make you feel comfortable with the treatment. Our female pelvic physio will first look for how to make patients feel comfortable about the treatment. Once they feel comfortable, we will start our treatment in a compassionate and friendly atmosphere. Thus, visit North-West Physio & Massgae today for the best pelvic physiotherapy Calgary NW or you may ring at pelvic floor clinic Calgary phone number.
See What Our Customers Say About North-West Physio & Massage: #1 Pelvic Floor Physiotherapy Specialist in NW Calgary
You Can Locate Us @