Laser Physiotherapy
Laser Physiotherapy Treatment
At North West Calgary center, our therapists are providing various kinds of physiotherapy treatments amongst which the specialized treatment is laser physical therapy. Our therapists suggest our patients go for laser therapy in order to repair the damaged soft tissues of the body. Thus, with our laser physiotherapy treatment, one can restore the normal function of cells.
When you have pain or inflammation in your body, you should not think of any other option to heal your problem. But you can simply visit our North West Calgary Center for better medical help.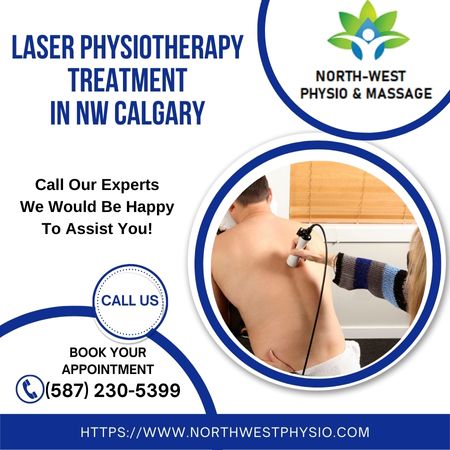 How Do We Treat Patients Using Laser Physical Therapy?
When it comes to lasers, there are many categories available like
· Surgical lasers
· Thermal lasers
· Medical lasers
· Soft lasers
· Therapeutic lasers
· High-power lasers
· Low-power lasers
But in physiotherapy laser treatment, we will use low-power lasers to treat your pain and health issues. We suggest low-power lasers in physiotherapy because of their increased stimulation and decreased effect. For healing your wounds, we use low-power lasers because of their good physical properties.
Is Laser Therapy Treatment Safe?
It is completely safe for you to get laser therapy from our trained and experienced physiotherapists. Our therapists use the safe and effective laser therapy procedure which is non-invasive too. You don't have to worry about pain, as you will not feel any pain. But the patients can feel the laser device touching their skins without any heat or vibration effect.
· During the treatment procedure, our therapists will first prepare the patient's skin by cleaning with Gel sprays or normal water.
· Then, you will feel the laser device touching your skin that emits non-thermal photons.
· After calculating the dosage, our therapists will send the laser light. These light photons will travel through the skin layers to reach the pain area.
· Now, therapists will notice the depth of penetration of laser light to see the effect. They will either use He-Ne laser energy or GaAs laser energy to treat the patients.
· Finally, when the tissues absorb such light, you will notice the healing of damaged cells and tissues.
This is how; our laser physical therapy NW Calgary experts provide you with laser therapy to alleviate pain and inflammation. Our main aim of laser therapy is to reduce the healing time of damaged tissues or cells, as therapy promotes intracellular metabolism.
How Do You Benefit From Our Laser Therapy?
Those who get laser physiotherapy treatment at North West Calgary clinic can get a lot of health benefits. Some of them include,
· Alleviate pain
· Wound healing takes less time. Even open wounds get treated with laser therapy
· Nerve injury's recovery
· Helps with bone and cartilage formation
· Decrease the production of scar tissue
· Increases Adenosine Triphosphate which is helpful for a quick healing process
What Health Conditions Do We Treat Through Laser Therapy?
We recommend laser treatment physiotherapy strictly for certain patients. Similar to other diagnosis procedures, laser therapy also follows the same process. So, at first, our therapists discuss with patients and ask about previous medical reports or else ask them to go for medical tests. Based on the test reports, our therapists will suggest some of the patients go for laser therapy.
The symptoms for which we suggest laser therapy as a treatment are
· Tennis elbow
· Genera chronic pain
· Plantar fasciitis
· Disc herniation
· Frozen shoulder
· Rheumatoid arthritis
· Tendonitis
· Sciatica
· Pelvic dysfunction
· Temporomandibular Joint pain (TMJ)
· Hip or shoulder pain
For all the above symptoms, we recommend laser therapy for only patients who are not allergic to laser light.
How Safe Is Laser Physiotherapy Treatment At North West Calgary Clinic?
Since we practice laser therapy following a strict protocol, you will get safe treatment from our experts. We even avoid providing laser therapy to
· Pregnant women for whom laser rays are harmful to the fetus
· Laser beams should avoid reaching your eyes and thus we provide spectacles to you
· We don't send the laser light over the cancerous part of the body
· We avoid providing laser therapy to epileptic patients
Thus, after considering several precautions, we ask our patients to go for laser therapy. It is completely safe for you to get laser therapy from our experienced laser physiotherapy treatment NW Calgary experts in a friendly atmosphere.
See What Our Customers Say About North-West Physio & Massage:
You Can Locate Us @