Relaxation Massage
Whether you are experiencing chronic pain or acute pain, we have a team of experienced and registered massage therapists at our clinic to help you lead a pain-free life. To heal your injuries and to treat your pain, we are there to care for and support you the most.
To get some relaxation over the pain you suffer from, visit us to get a relaxation massage clinic from our experts.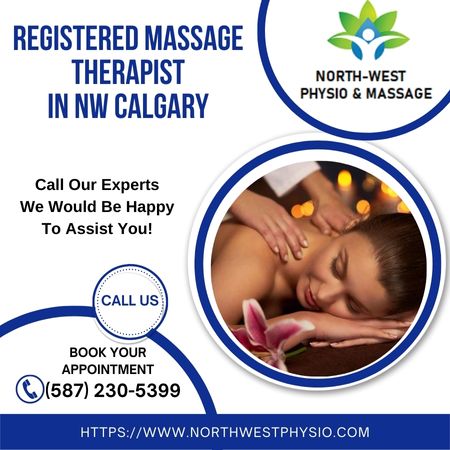 Relaxation Massage Clinic:
Our relaxation massage therapists are great experts in offering massage therapy. To relax muscles and reduce the pain in the muscular area, we offer the best relaxation massage which is different from a spa massage. The purpose of providing relaxation massage therapy is to treat various muscle and bone disorders without using any medications and surgeries. But we use the application of just a hands-on approach to treating your conditions, and sometimes treat your mental conditions too.
Most of our registered massage therapists will first relieve your body's stress and tension over your muscles. When there is no stress in your body, it will automatically treat some of your health conditions. Some of the relaxation massage therapies that we provide at our North West Calgary Center include,
· Deep Tissue Massage
· Relaxation Massage
· Therapeutic Massage
· Hot Stone Massage
· Prenatal Massage
Our registered massage therapists discuss the above massage treatments with you to decide on the best therapy that suits your body.
How Do You Benefit From Our Massage Therapy At North West Calgary Clinic?
Based on a report, massage therapy worked successfully for many patients in treating various health disorders. Thus, we recommend this treatment compulsorily for our patients to live pain-free life. Additionally, this massage therapy avoids you from taking medications for treating disorders.
We suggest our patients go for massage therapy because of its various benefits. Massage therapy will take care of both acute and chronic pain conditions and thus, helps in stress reduction for the overall wellness of your health. This is why we strictly recommend our patients undergo massage therapy. Furthermore, we provide the therapeutic massage that takes care of various disorders affecting
· Muscular system
· Nervous system
· Facial system
· Circulatory system
Aside from the above benefits, we provide massage therapy to
· Promote the flow of blood
· Decrease the muscular tension and stress
· Reduce stress and provide relaxation
· Eject pain and stiffness
· Cease the formation of scar tissue by breaking down
Now, you may get the reasons why we are recommending relaxation massage therapy in NW Calgary to our patients. With this wonderful treatment from our registered massage therapists, you will recover from most health disorders.
To Whom We Provide Massage Therapy At North West Clinic?
The first step of our treatment is a one-on-one discussion with patients to know about their problems. We will ask for symptoms that they are suffering from. Then, we provide some therapy sessions followed by massage therapy. So, if the patients have the below symptoms, we will treat them with massage therapy.
· Headaches
· Myofascial Pain
· Temporomandibular Joint (TMJ) Pain
· Sciatica
· Spinal Disc Issues
· Joint Pain
· Neck Pain
· Low Back Pain
· Piriformis syndrome
· Tennis elbow
· Carpal Tunnel Syndrome
· Fibromyalgia
· Balance Problems
· Tendonitis
· Sprains & Strains
· Osteoarthritis
· Sports injuries recovery
· Workplace injuries recovery
So, the patients with any of the above symptoms will get massage therapy treatment. Based on the recovery condition of patients, our certified massage therapists Calgary will ask them to attend from two to many sessions. According to the disorder of patients, our registered massage therapists will provide the right kind of massage to the relevant area of the body. So, visit our relaxation massage Calgary NW clinic to relieve your stress and pain.
How To Book An Appointment With Registered Massage Therapists?
We have an official website for North West Physio & Massage Limited, where you can visit and get our contact details. You can book an appointment with us using the official website. In the event of an emergency, you can directly visit us without an appointment. We will take care of your serious health conditions the most and treat you with the best massage and other therapies in a friendly atmosphere. Thus, book your appointment and reach us to lead a pain-free life.
See What Our Customers Say About North-West Physio & Massage:
You Can Locate Us @